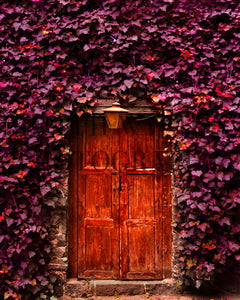 The Doorway Beyond
I'd spent the week wandering around the town of San Antonio, Mexico. Flitting from here to there, taking in all the comings and goings of locals preparing to celebrate their ancestors. An overall feeling of electricity blanketed the air. I stopped to sit in a picturesque doorway surrounded by flowers. It was one of the few doorways I hadn't seen anyone enter or leave during all the hubbub of the week, but it had caught my eye every time I passed it. I daydreamed about the festivities that would be taking place all day and night. The wind rustled against the flowers surrounding the doorframe, and the last thing I remember of daylight is the warmth of the fading sun upon my hands and face.
When I awoke the door was open. I rose to my feet and peeked my head inside the doorway to see a giant ballroom with an actual night sky painted on the domed ceiling. The painted moon and stars looked as if they were radiating the light inside the room. Every face was adorned with the make-up I'd grown accustomed to seeing throughout the week, though these were by far the best painted faces I'd seen yet. A band played in the corner, as this room of painted skeletons twirled and whirled in all of their finery. I laughed out loud at this incredible spectacle, and then everything stopped. All eyes became focused on me, and a chill ran up my spine.
"This is no place for you, amigo. This is not a dance you are ready for yet."
A white-haired gentleman walked past me, wearing a beautiful white suit and hat. He looked back at me once and smiled with dazzling white teeth. Then the door closed, and I was left with nothing but this waking dream.
By Z.W. Mohr
We are now offering Paper Prints for a limited time through the holidays. Free Shipping when you spend $50.00 or more

8x10 Photograph on Archival paper
All Photographs are printed with Fujicolor Crystal Archive Paper

Vivid color reproduction
Deeper reds
Clearer yellows
Lifelike texture and sharpness
More brilliant whites, clear and detailed highlights
Prints that stay beautiful over time
Advanced Fujicolor Crystal Archive Technologies
Resist fading for generations